The Challenge
The Church Website Design Projects was originally founded in 2001 with a Tuesday night bible study. Over the next 20 years they grew and expanded into a Project that designed and hosted many websites for churches around the world. Over time, they realised their site was just not keeping up with their expanding brief. Unfortunately the Covid-19 lockdowns brought the project to a close.
As things started to return to normal after Covid-19, the Church Website Design Project was restarted by a group of passionate enthusiasts. They were looking for a complete overhaul of their old website to modernise, simplify and to rebrand the project with a new team taking up the reigns. Pathmaker needed to design a website that met all of the requirements and was reflective of the Projects DNA. We needed to find an elegant ways to pull feeds from social media, which would help the site stay fresh.
Services:
Web Design, Software Development, Branding, Marketing, SEO
Tech Stack:
WordPress, Stripe, PayPal,
Project URL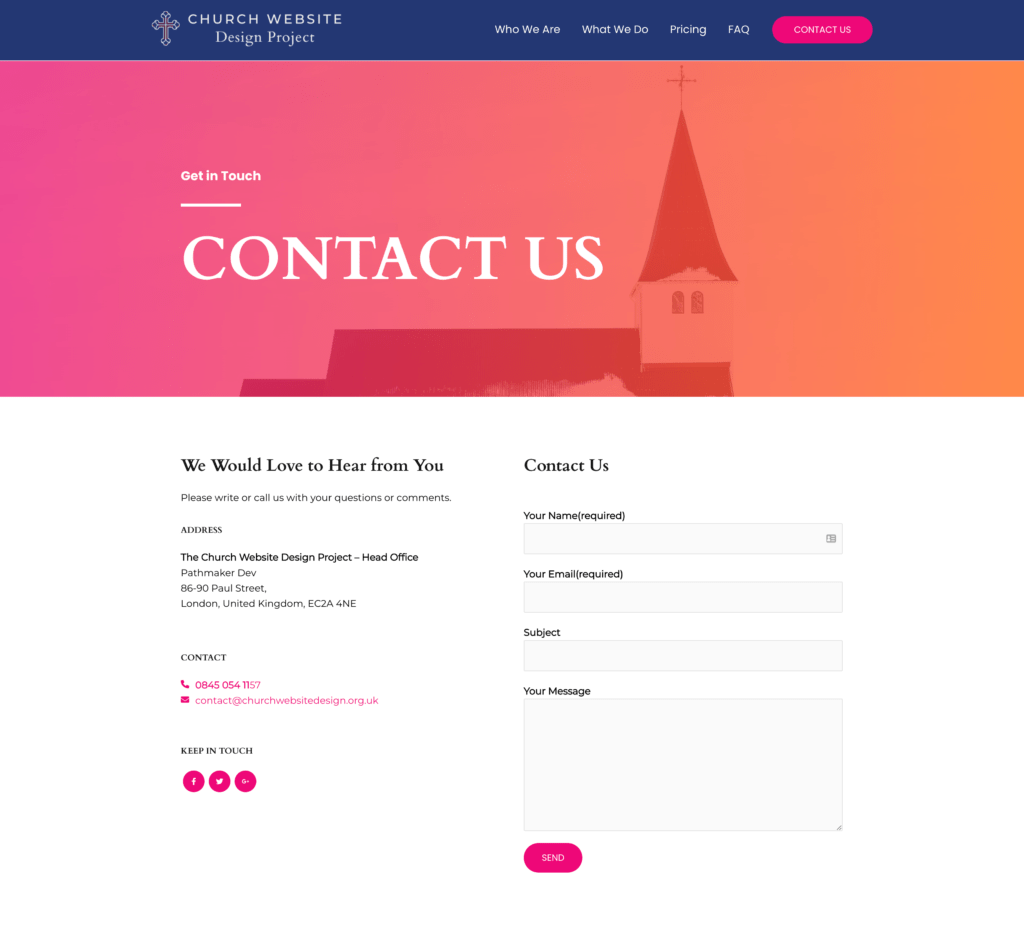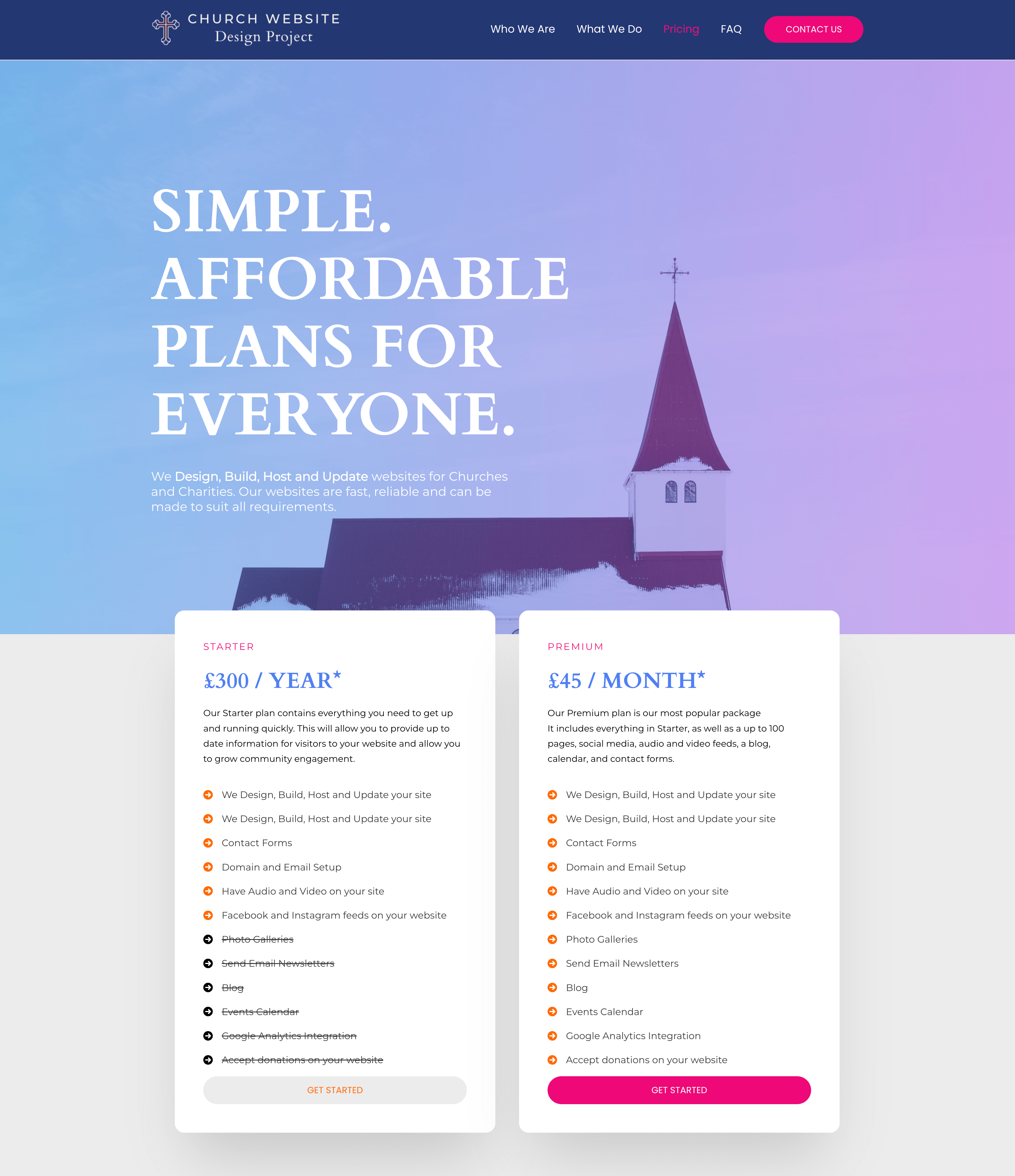 The Brief
The new site required modern design elements that bring character and a sense of family to the projects online presence. Whilst also staying accessible to those who prefer more traditional styles.
Part of this is ensuring that the community is aware of their presence. To do that, they needed a fresh and welcoming website that encourages users to visit and offer or ask for help.
In bringing a refreshed, modern feel to the Church Website Design Project website, Pathmaker worked alongside them on this interactive, contemporary website. The site needed to incorporate several blog feeds as 'featured' or 'latest posts' sections. As well as pulling in content from the projects Instagram and Facebook.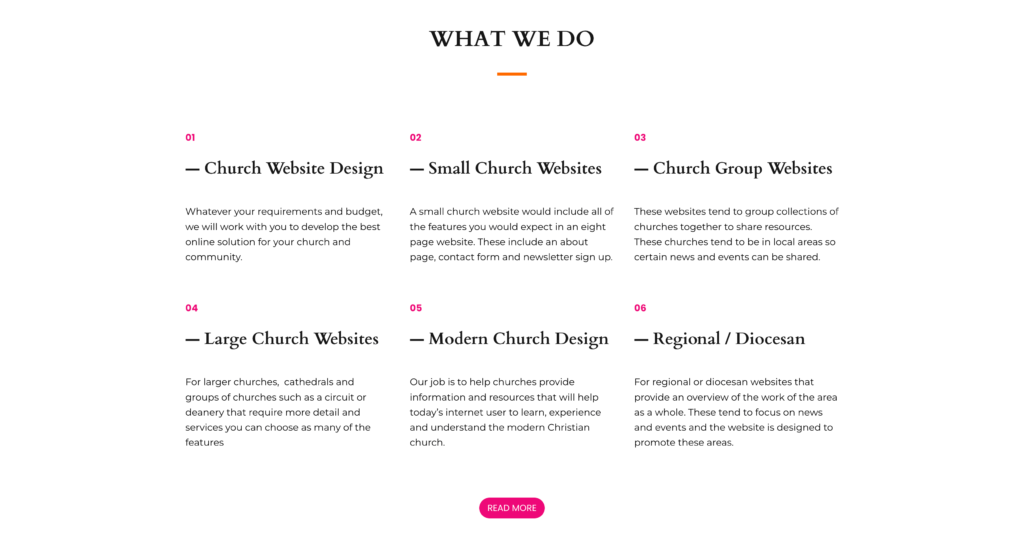 The Process
The design was the first step to ensuring their website helped encourage their mission. The design was made more engaging and made easier to navigate, if a visitor was looking for a specific section. In the process, 404 links were pruned, and inaccurate content was rewritten to reflect the ministry as it is today. Any edits and updates were streamlined to allow the client to change anything they want easily.
Members of the church have an easier way to update the website with the transition into WordPress.
Added a Google Calendar, designed specifically for their room booking needs.
Upcoming events and a social media feed were added to the front page to give it additional flexibility and draw attention to important information and events going on.
The service hours text was enlarged and contrasts against the background to help it stand out.
Changed the colors from reds and yellows to contrasting white and blues to make the site feel more welcoming and encourage users to spend more time there.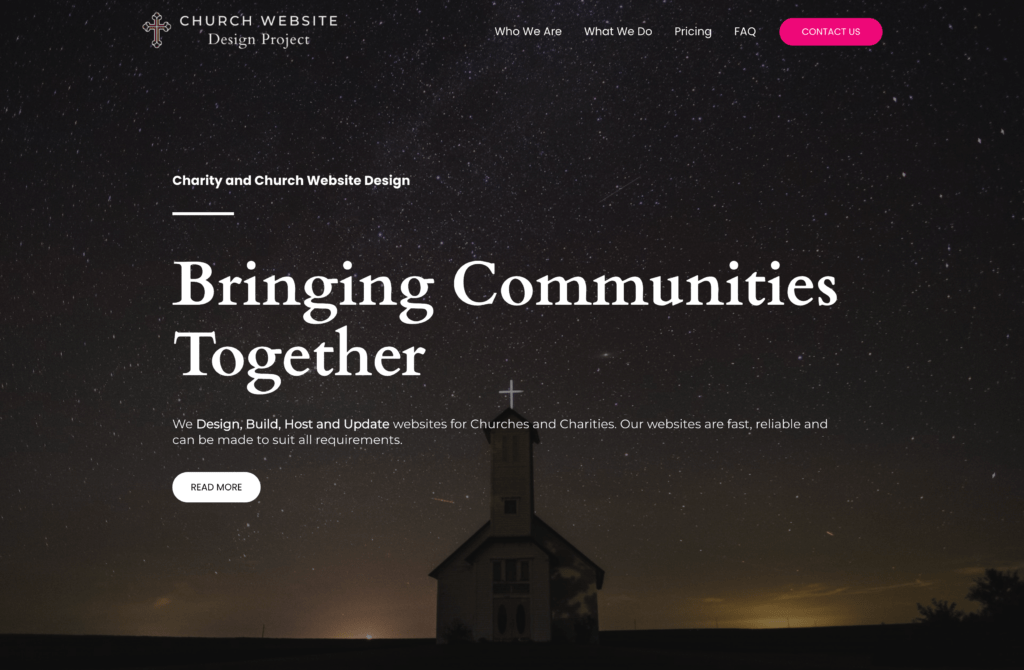 The Solution
The website is now more welcoming, with visually appealing colours and a format that makes discovering information so much easier for the user. The visitors to the site will find it easy to view the services offered, and how the project can benefit their church and help spread the word of what they are doing for the community. And with WordPress's easy-to-use interface and training, they can keep their website updated with ease.
The efforts of creating a new website for the Church Website Design Project paid off. With a clean design and updated content, visitors can now look for what they are curious about and expect up-to-date content. With a streamlined method for editing and updating their content, the client can ensure that at any moment the information their visitors are seeing continues to remain current.
We look forward to working in partnership with the Church Website Design Project in the future.
We our so happy with the design of our new site and the entire process that was completed on time and on budget. One of the highlights of working with Pathmaker has to be the incredible service from the whole team. Whether contacting them by phone or email their quick response and eagerness to help is excellent. The editing software they provided is easy to use. It gives quick results and it is easy to continually tweak your site as you want to. Our new website is proving to be a great asset to the work of our Project.

Church Website Design Project
See more of our case studies.
We create brands, products, and experiences that people love. Explore some of our clients projects, including websites, brochures, mobile apps, email campaigns and more. Contact us to see how we can add value to your business.
We were approached by True Coffee to help expand their fairtrade coffee business.

Design and Marketing collaboration to help communities increase their digital presence

Rebrand and web design for a North London restaurant that improves its digital presence.
Looking for a stylish & sophisticated website?